SHEROES Foundation visits All Girls' Science Academy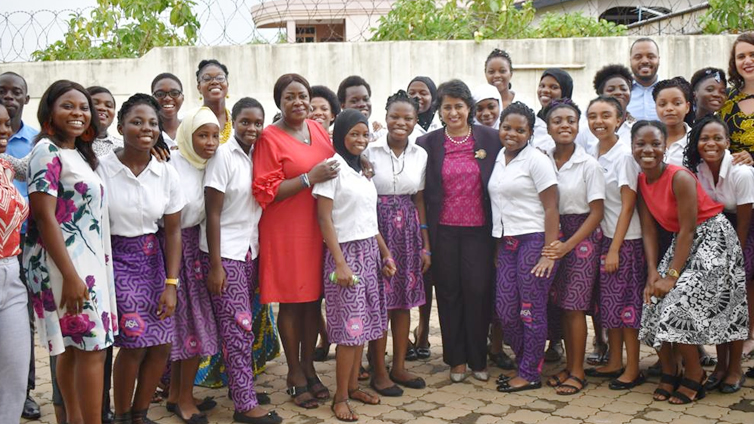 As part of the activities for the International SHEROES Forum Accra 2019, the Founder and Executive Director of the SHEROES Foundation, Ms. Flossy Menson visited the African Science Academy accompanied by H.E. Dr. Ameenah Gurib-Fakim, Former President of Mauritius.
Dr. Gurib-Fakim who is in Accra to participate as the Keynote Speaker at the 8th edition of the highly anticipated International SHEROES Forum, which will be held at Labadi Beach Hotel was very excited about the prospect of meeting and encouraging the young girls.
Dr. Gurib-Fakim who in addition to being a politician is a biodiversity scientist, took the opportunity to encourage the girls to aim higher and always consider what their legacy would be. She said her legacy was the girls who were participating in STEM. Ms. Menson mentioned her commitment to the empowerment of girls with the promise to be available as a mentor and a guide for their future endeavors. Ms. Efua Adabie, Headteacher of the school, mentioned that the visit was such a great encouragement and boost to the girls who never thought they would ever get a chance to meet their "SHERO" in this lifetime. Incidentally, a dormitory had been named after Dr. Gurib-Fakim, which made her feel very humbled, she said.
The African Science Academy (ASA) is a new, girls-only Advanced Level school for math and science. Opened in August 2016 on the outskirts of Accra, Ghana, ASA is a "sixth-form" college leading to globally respected Cambridge International A Levels.
ASA is a boarding school for young women with outstanding math and science potential. They select academically gifted students with a passion for math and science. Students apply from across Africa and are admitted after their senior secondary education in preparation for progression to the best universities in Africa and around the world. ASA is a pathway to undergraduate study and future careers in Engineering, Science, Computing and more.
SHEROES Foundation is committed to increasing participation of great women in the lives of young girls as mentors to boost their morale.

Related Categories